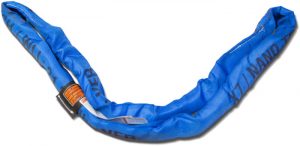 Polyester Round Slings with NANO TECH Coating Load Chart
Color Code
Size Code
Approx Body
Diameter
Approx Body
w./ft. lbs
Vertical
Choker
Basket Hitch
90 deg
60 deg
45 deg
Purple
X1
0.6
0.3
2,600
2,100
5,200
4,500
3,700
Green
X2
0.8
0.4
5,300
4,200
10,600
9,200
7,500
Yellow
X3
1
0.5
8,400
6,700
16,800
14,500
11,900
Tan
X4
1.2
0.6
10,600
8,500
21,200
18,400
15,000
Red
X5
1.3
0.8
13,200
10,600
26,400
22,900
18,700
White
X6
1.4
0.9
16,800
13,400
33,600
29,100
23,800
Blue
X7
1.55
1.2
21,200
17,000
42,400
36,700
30,000
Orange
X8
1.75
1.5
25,000
20,000
50,000
43,300
35,400
Gray
X9
1.95
2
31,000
24,800
62,000
53,700
43,800
Orange
X10
2.35
2.8
40,000
32,000
80,000
69,300
56,600
Brown
X11
3.15
3.6
53,000
42,400
106,000
91,800
74,900
Olive
X12
3.95
4.6
66,000
52,800
132,000
114,300
93,300
Black
X13
4.8
5.8
90,000
72,000
180,000
155,900
127,300
Warning: Sling can fail if damaged, misused, or overloaded.Use only if trained. DEATH or INJURY can occur from improper use or care. inspect before use and observe rated load to avoid death or personal injury. Avoid exposure to acid alkali and temperatures over 180 degrees. Pad edges of load to avoid damage to the sling.
Loads of security
We've combined "flexible" and "grip" to give you our Polyester Round Slings with Nanotech coating, the round sling that lifts many loads most other types of slings can't. With loads of flexibility, it wraps easily around a wide variety of difficult loads to give you loads of lifting security.
Polyester round slings with Nanotech coatings grip many unusual loads. they aren't made like other types of slings. As a round sling, it features multiple loops of polyester fibers encased in a double-layer jacket that's very flexible and supple. Perfect for hugging many uneven and odd-shaped loads.
Its soft design also grips many loads tightly – especially when used as a choker – to reduce slipping during the lift. By simply adjusting the flexible sling, you can lift a variety of loads of different sizes and shapes.
Low-stretch design makes rigging easier.
Polyester round slings with Nanotech coating feature a 100% polyester construction that stretches approximately 3% at its rated capacity and still returns to its original
length. That minimizes adjustments for stretch and reduces head room problems of your lift.
Light in weight, but high in strength
Polyester round slings with Nanotech coating may have a soft, pliable appearance on the outside, but they contain high-strength polyester fibers on the inside. These fibers run throughout the sling's body for high load-bearing capacity. Choose from several rated capacities to match your lifting requirements.
Two layers of protection
A double layer polyester jacket helps protect the slings interior from two major enemies: abrasion and wear. It also serves as an effective barrier against ultraviolet degradation of the internal load-bearing fibers as well as harmful dirt and debris. Protection like this pays off in long-term performance for your sling.
Polyester offers loads of advantages
The all-polyester construction virtually eliminates moisture absorption, rot and mildew for long service life. It also offers good resistance to common industrial acids (except concentrated sulfuric acid) and hot bleaching solutions. You can use polyester round slings with Nanotech coatings in the presence of many common chemicals such as alcohol, dry cleaning solvent, hydrocarbons, halogenated hydrocarbons, ketones, crude oil, lubricating oils, soaps, detergents, seawater and weak alkalies.
Be careful
Below are some conditions to avoid when using F slings.
Do not expose polyester round slings with Nanotech coatings to strong alkalies at elevated temperatures, and never use at temperatures above 194° F (90° C) or below
-40° F (-40° C).
A void sling contact with any kind of sharp surfaces.
Do not overload any sling beyond its rated capacity to prevent permanent stretch and weakening.
Warning: Failure to follow proper care, use and inspection criteria may result in personal injury. Do not exceed rated capacities.
Match the color to your lifting needs
The jackets of polyester round slings with Nanotech coatings are color-coded by rated capacity. Choose from eight different colors to fit the rated capacity you need for your lift (see chart). Each sling also features a durable identification tag to indicate its size, type and rated capacity for your convenience.
Polyester round slings with Nanotech coating options
F slings are also available in three configurations:
Endless-type slings that double the lifting legs in every application.
Multi-leg bridles.
Eye and eye slings formed by enclosing the body of an endless sling in a tubular jacket for extra protection and durability.
Moveable wear pads made with durable polyester buffer or leather are also available to help protect against lifting hooks and corners of loads.
Inspect your slings regularly
Before each lift, visually inspect your sling for any damage. Remove sling from service if you see:
Missing or illegible identification tag.
Melting, charring or weld spatter on any part of the sling.
Holes, tears, cuts, embedded particles, abrasive wear or snags that expose the sling's core yarns.
Broken or worn stitching in the cover that exposes the core yarns.
Fittings that are damaged, stretched, cracked, pitted or distorted in any way.
Knotting in the sling.
Acid or alkali burns.
Other visible damage that causes doubt as to the sling's strength.
Loading a sling beyond its rated capacity.