MAMMOTH Rigging® high performance yarn round slings are made exclusively of EHP blended fiber yarn. EHP Engineered Hybrid Power®
EHPyarn is a blended fiber composition that leverages the advantages of Honeywell HMPE Spectra® Fiber and Aramid Technora® fibers.
The Benefit of our Hybrid EHP©:
By scientifically blending Technora® Fiber with Honeywell Spectra® Fiber the resulting EHP Hybrid has improved characteristics in several areas
As Technora® loses strength at low temperatures Spectra® fiber gets stronger, while Technora® maintains its strength at higher temperatures
EHP® is suitable for use from -40 C up to 70 C (158 F)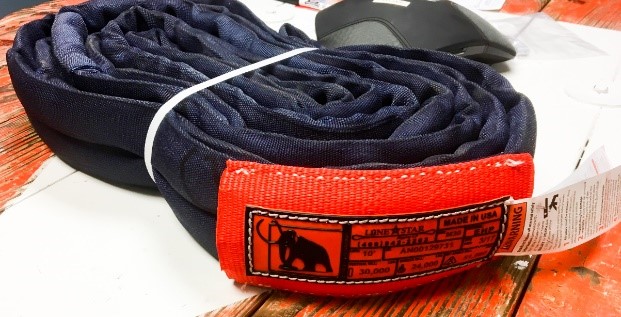 MAMMOTH Rigging® high performance yarn round slings are jacketed with RawHide NANO Tech Polyester double wall material.  Our NANO Tech manufacturing process is completed at the fiber level before weaving to cover 100% of the jacket inside and out. Testing has shown increases of up to 20% better abrasive wear verses other sling jackets and gives an added protection to help keep a sling clean and easy to inspect.
TESTING: All Mammoth Slings go through pre-loading and proof test that meet and exceed ASME B30.9, WSTDA-RS-1HP and NAVFAC P307 standards.
MANUFACTURING: All Mammoth Slings are Made in USA. Each sling is serialized and maintains traceability for each component. IDENTIFICATION is accomplished using only Etiflex® THE MOST DURABLE, THE MOST READABLE tag used in the sling industry.
Removal Criteria – A roundsling shall be removed from service if any of the following forms of damage are visible:
Holes, tears, cuts, embedded particles, excessive abrasive wear or snags that

expose the core fibers of the roundsling.

If roundsling identification tag is missing or not readable.

If roundsling has been tied into one or more knots or has been joined by knotting.

Melting, charring or weld spatter of any part of the roundsling.

Acid or alkali burns of the roundsling.

Broken or worn stitching in the cover which exposes the core fibers.

Distortion, excessive pitting, corrosion or other damage to fitting(s).

Any evidence of a broken core yarn(s) present in the form of a substantial 

reduction of core yarn within any area of the roundsling and/or by a 

substantial accumulation of core yarn bundle within any section of the 

roundsling.

Any conditions which cause doubt as to the strength of the roundsling.