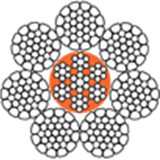 High Performance Hoist Rope. Flex-X 7 CC – a crane rope that guarantees a lift in productivity.
Flex-X 7 CC extended duty crane and hoist rope is designed and manufactured primarily for the container crane industry where repetitive, continuous operations is required. Since its debut, additional research and extensive testing have shown that Flex-X 7 CC delivers the same exceptional fatigue resistance and service life to other applications where bending fatigue is a problem. Already a preferred rope for container cranes, Flex-X 7 CC is now providing extended service life in carriage operations and other applications where multi-sheave equipment and rigorous duty cycles induce fatigue stresses. Almost any application currently using a 6×36 construction can gain an increase in service life with Flex-X 7 CC.
FLEX-X 7 CC STARTS OUT STRONGER.
When comparing strength, you'll see that Flex-X 7 CC provides a significant increase. Actual test results show this differential increases throughout the fatigue life of the rope. In fact, Flex-X 7 CC rope still has 103% of the standard rope's original strength at the point where standard rope experiences complete fatigue failure. For more information, review our product flyer.
FLEX-X 7 CC LASTS LONGER.
Flex-X 7 CC's longer service life results in lower maintenance costs due to fewer rope changes. In addition, fatigue tests have shown that Flex-X 7 CC will outperform competitors' premium 8-strand compacted, coated core ropes by 60% or more. These tests have also shown that Flex-X 7 CC outlasts standard ropes by up to 88%.