Flexibility and handling ease for rigging large lifts are the main benefits of the 9-part slings. The 9-part sling is made by laying wire rope continuously through both eyes and the sling body. This results in a body formed with nine parts.
The proven design provides internal adjustment to distribute the load among all nine parts of the sling body. Additionally, the construction makes it possible to more easily inspect all parts of the sling before and after each lift, which is important to remember if the sling is to be used many times.
Only two splices occur in the entire sling where the two rope ends are spliced at the eyes. A 9-part sling construction exhibits constructional stretch of approximately 1.5% on the first loading and a lesser amount thereafter. For this reason, lifts that use two or more legs should always be made with legs that have been subjected to the same past usage when such stretch may affect the lift.
When a sling body must conform to a tight choke hitch or must bend in a tight radius, such as around a pin or post, a 9-part construction may be the most suitable since it can develop greater lifting capacity from a smaller component rope.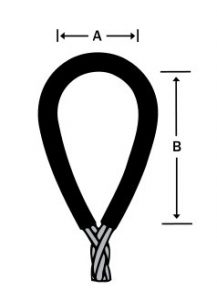 915 Nine-Part Braided Wire Rope Sling
RatedCapacity-Tons*
RatedCapacity-lbs*
Rope Dia. (in.)
Component Parts
Standard Eye Size
Weight Per Foot
Vertical
choker
basket
Capacity
Capacity
Capacity
XIP® IWRC
1-3/4″
16-Jul
22″
14.6
10.9
29.2
3.15
2″
1/2″
24″
19.1
14.3
38.2
4.14
2-1/4″
9/16″
26″
24.1
18
48.2
5.31
2-1/2″
5/8″
28″
29.6
22.2
59.2
6.48
3″
3/4″
30″
42.3
31.7
84.6
9.36
3-1/2″
7/8″
35″
57.3
42.9
114.6
12.78
4″
1″
40″
74.4
55.8
148.4
16.65
4-1/2″
1/1/8″
45″
93.6
60.2
187.2
21.06
5″
1-1/4″
50″
115
86.2
230
26.01
5-1/2″
1-3/8″
55″
138.2
103.6
276.4
31.5
6″
1-1/2″
60″
164.1
123
328.2
37.44
7″
1-3/4″
70″
220.3
165.2
440.6
51.03
8″
2″
80″
285.1
213.8
570.2
66.51
9″
2-1/4″
90″
355.6
266.7
711.2
84.24
10″
2-1/2″
100″
434.8
326.1
869.6
104
Rated Capacity is rated on 5:1 Design Factor