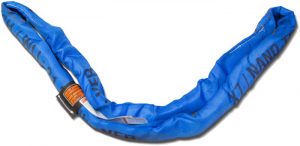 Loads of security
We've combined "flexible" and "grip" to give you Nanotech, the round sling that lifts many loads most other types of slings can't. With loads of flexibility, it wraps easily around a wide variety of difficult loads to give you loads of lifting security.
Nanotech and grips many unusual loads. Nanotech isn't made like other types of slings. As a round sling, it features multiple loops of polyester fibers encased in a double-layer jacket that's very flexible and supple. Perfect for hugging many uneven and odd-shaped loads.
Its soft design also grips many loads tightly – especially when used as a choker – to reduce slipping during the lift. By simply adjusting the flexible sling, you can lift a variety of loads of different sizes and shapes.
Low-stretch design makes rigging easier.
Nanotech slings feature a 100% polyester construction that stretches approximately 3% at its rated capacity and still returns to its original
length. That minimizes adjustments for stretch and reduces head room problems of your lift.
Light in weight, but high in strength
Nanotech slings may have a soft, pliable appearance on the outside, but they contain high-strength polyester fibers on the inside. These fibers run throughout the sling's body for high load-bearing capacity. Choose from several rated capacities to match your lifting requirements.
Two layers of protection
A double layer polyester jacket help protect the Nanotech sling interior from two major enemies: abrasion and wear. It also serves as an effective barrier against ultraviolet degradation of the internal load-bearing fibers as well as harmful dirt and debris. Protection like this pays off in long-term performance for your sling.